Plumbers are in high demand due to both new construction and maintenance of existing buildings. From single-family homes to large retail developments, plumbers are a necessity.
This skilled profession has positive job growth, and can potentially bring in a substantial income depending on the level of expertise and experience in the field. So what is the average salary of a plumber?
According to Indeed.com, in 2020 plumbers earned an average yearly salary of $50,584 with $6,750 overtime per year.  However, plumbers' salaries are dependent upon a number of factors, including education, skills, certifications, experience, and location. Salaries also depend on whether a plumber owns the business or works as an employee for a plumbing company.
In this article, we will define what exactly plumbers do. We will provide additional salary figures as well as outline the factors that affect a plumber's salary. If you are interested in becoming a plumber or currently work as a plumber, check out our plumber salary 2020 guide below!
Plumber Job Description
Plumbers are responsible for the installation, maintenance, and repairs of water supply, drainage, gas, and sewer pipes. Plumbers install and repair other plumbing fixtures and appliances, such as toilets, sinks, bathtubs, water heaters, and washing machines.
For new construction buildings, plumbers will typically work with developers, general contractors, and other trade professionals.
Plumbers are also responsible for unclogging and cleaning drains, maintaining septic systems, and addressing broken pipe systems, among countless other jobs.
Plumbers by the Number
As with most jobs, more experience means a higher paying salary. Indeed.com found that plumbers with less than one year of experience had an average yearly salary of $42,377 or less. Plumbers with ten or more years in the field earned $61,479 per year.
As one of the largest job-searching databases in the US, Indeed.com provides valuable insights when it comes to determining a job's salary.
Another site, Salary.com, reported that the average plumber salary was $57,961 at the end of 2020. Salary.com, a leader in the world of cloud-based data and analytics, notes that plumbers earn a range between $50,412 and $66,312.
When looking back to 2019, the United States Department of Labor reports that the average salary for plumbers was $55,160. When compared to other jobs in similar fields, plumbers only came in behind electricians. Plumbers typically make more than carpenters and construction workers.
The US Department of Labor projects that plumber jobs will grow four percent from 2019 to 2029, which is the average rate Across most occupations.
What Factors Affect a Plumber's Salary?
We mentioned that there are many factors that can affect a plumber's salary. Let's take a closer look.
Education and Certifications
Generally speaking, there are three levels of plumber certification: apprentice, journeyman, and master. A plumber's salary depends greatly on their level of certification.
Plumber Apprentice
Starting Salary Estimate: $15-$19 per hour / $32,100-$40,250
Apprentices generally complete a 4-year program at a trade school or union that combines classroom instruction and on-the-job training. Once an individual is accepted into an apprenticeship or obtains an apprentice license they can begin to work under a journeyman or master plumber's supervision.
Apprentices make less money than journeyman or master plumbers.
Upon successful completion of an apprenticeship, an individual can take a licensing exam to become a journeyman plumber, where they should see a jump in pay.
Journeyman Plumber
Starting Salary Estimate: $26 per hour / $53,910
Journeyman plumbers must typically work two to five years, depending on state requirements. With a journeyman license, a plumber can work independently.
Master Plumber
Starting Salary Estimate: $34-$45 per hour / $71,140-$93,700
In order to apply for a master license, an individual must typically have a minimum of two years of experience as a journeyman. Then of course they must pass the exam in order to become a master plumber.
Becoming a licensed master plumber gives an individual the experience and knowledge to expand their career and increase their salary. In fact, master plumbers are some of the highest-paid in the industry.
When looking at salary ranges, a master plumber will be at the top end of the spectrum.
Of course a location's cost of living affects what a plumber's salary actually means for them.
Where a Plumber Works
Geographical location is a factor that affects what a plumber brings home each year.
The US Department of Labor official statistics from May 2019 show which states plumbers made the most money. Take a look at the chart below: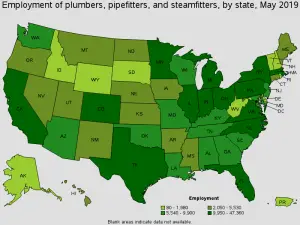 The states where plumbers were paid the most in 2019 were Illinois, Alaska, Minnesota, New Jersey, and Massachusetts. Check out the salary details below. Illinois plumbers made an annual mean wage of $86,120.  
Of course, a location's cost of living affects what a plumber's salary actually means for them.
| | | | | | |
| --- | --- | --- | --- | --- | --- |
| State | Employment (1) | Employment per thousand jobs | Location quotient (9) | Hourly mean wage | Annual mean wage (2) |
| Illinois | 17,570 | 2.92 | 0.97 | $41.40 | $86,120 |
| Alaska | 1,060 | 3.36 | 1.11 | $38.28 | $79,610 |
| Minnesota | 9,950 | 3.45 | 1.15 | $35.91 | $74,700 |
| New Jersey | 8,780 | 2.15 | 0.71 | $35.75 | $74,360 |
| Massachusetts | 12,970 | 3.58 | 1.19 | $35.56 | $73,970 |
Plumber Work Hours
Most plumbers work full-time, including evenings, nights, and weekends. It's not unusual for plumbers to work overtime as they are typically on call for emergencies.
Plumbers work in homes, offices, restaurants, businesses, and everywhere in between, so they are constantly on the go.
Plumber Employment Status
Self-employed plumbers generally make more money. With that comes more responsibility as owning a successful business requires hard work, smart financial decisions, organization, and consistency. Not to mention insurance considerations, employee management, and more. It's definitely not for everyone.
In Summary
Plumbing is a skilled profession with the potential for a great salary. Individuals willing to work hard, gain experience, and master the art of plumbing are typically rewarded with a salary to match.
References
Bureau of Labor Statistics, U.S. Department of Labor, Occupational Outlook Handbook, Plumbers, Pipefitters, and Steamfitters,
at https://www.bls.gov/ooh/construction-and-extraction/plumbers-pipefitters-and-steamfitters.htm
https://www.salary.com/research/salary/benchmark/plumber-salary/greenville-sc
https://www.indeed.com/career/plumber/salaries
To read this article in Spanish, click here.